The Gaucho Voice Staff Edition (GVSE) is a voluntary email distribution list giving UCSB staff access to information about staff-related opportunities, events, and issues. Don't miss out! If you haven't opted in to this distribution list, follow these instructions to subscribe:
Click here to subscribe to the Gaucho Voice newsletter.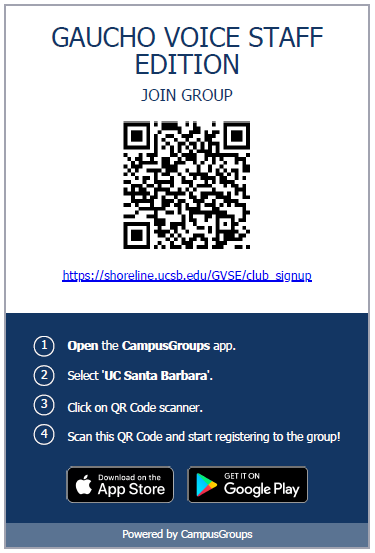 The GVSE is distributed Tuesday mornings via Shoreline. If you have questions, please contact us.
How to submit an article for the GVSE
The GVSE is sent every Tuesday at 8am. To have your announcement added, send your text, jpg, or png (include link in the body of the email request if applicable) to ets-gvse@ucsb.edu by 5pm on the Friday (or Thursday if Monday is a holiday) before the newsletter is sent.